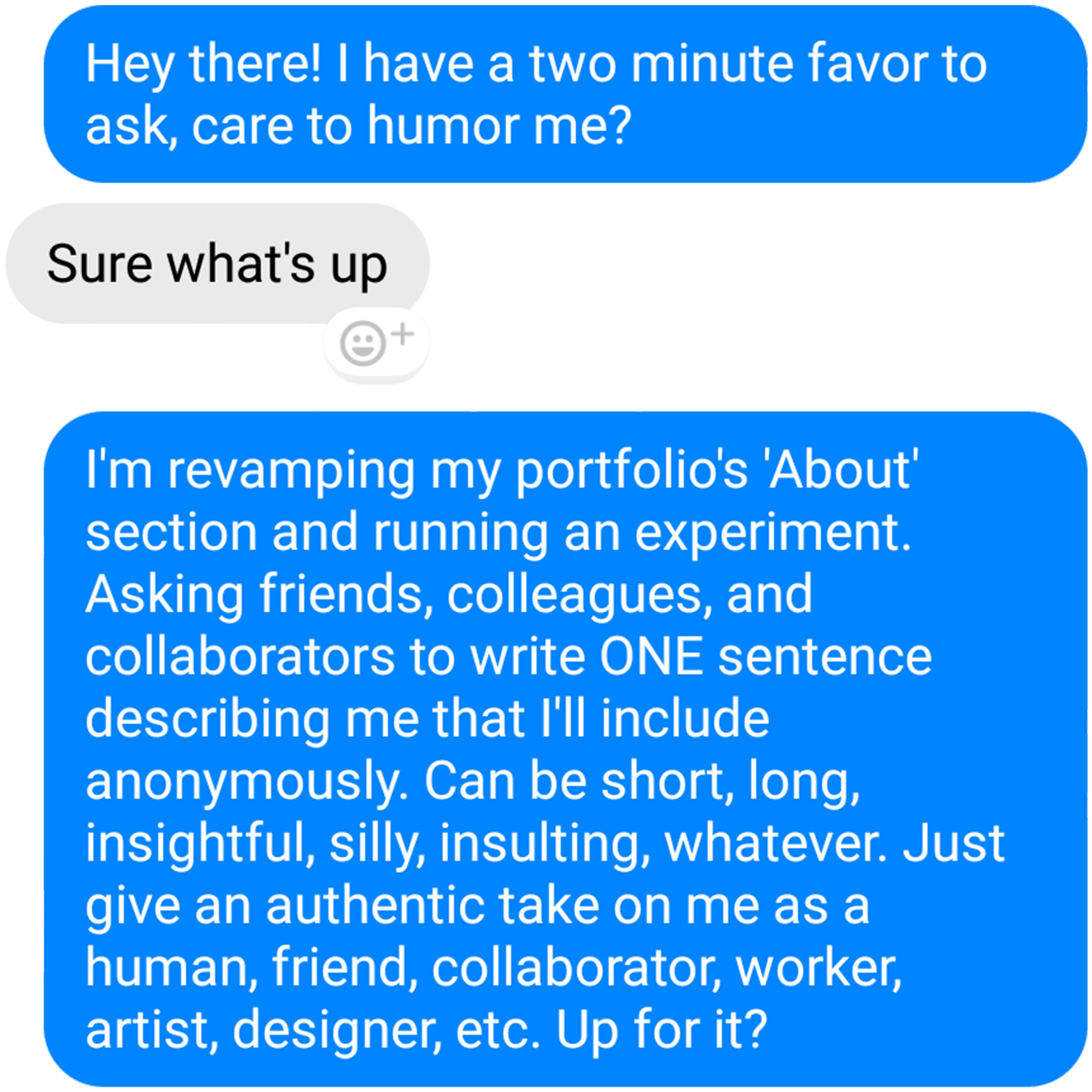 "Crowdsourcing an 'About' page might be the most hipster and millennial thing I've ever been asked to do, but I'd do it for Trey."
"Trey has old school moxie - the rare combination of a diligent work ethic, continuous skill acquisition, ability to communicate effectively in a reclusive digital world, and the gall to ask people for one sentence about him."
"Meet the quirky, zany, skinny, nerdy, artistic, insightful, idealistic, and articulate, mensch, that is Trey." 
"If Salvador Dali and Elon Musk were to have a child, it would be Trey Steinhoff."
"Remember me when you're famous."
"An artist with an insightful and prescriptive approach to every passion project or business he takes on." 
"Trey is nothing if not genuine, he dreams big and puts his all into everything he does, compassionate, intelligent, and witty." 
"I can count on one hand the number of times in my life that within 5 minutes of speaking to someone, I knew they were up to something different and would go on to do groundbreaking things -- Trey Steinhoff was one of those conversations."
"Only being able to write one sentence sucks balls." 
"There are a lot of designers, painters, and artists out there but Trey stands out with depth. Depth in how he gives advice for life or art. Depth in his creations. You can't buy depth, but you can buy projects of depth and have your business thrive."
"A deeply thoughtful and analytical mind, always searching for creative ways to make things better, all while retaining a friendly disposition and sense of humor."
"A vibrant, creative, and motivated individual, Trey is a multifaceted person who made work more enjoyable and plum colored pants look cool." 
"Stick with Carl, you'll go farl."
"Trey's authenticity and attention to detail consistently produce strong, relevant work."
"After having worked with Trey on a few projects, I appreciate his natural way of bringing out the best in people and am impressed by his ability to anticipate and subvert shortcomings."
"Strong-willed and morally driven, Trey leveraged his creative energy to get things done." 
"Earnest. Dependable. Composed. Gregarious. Focused. Trey, I think you might be a German Shepherd."
"Trey is overwhelmingly resilient with taking ownership in many projects while maintaining creativity and a minimized ego, even when many people are pulling in all directions he finds a way to build on everyone's ideas."
"Trey is resourceful, trustworthy, and goes above and beyond." 
"Trey is one of my favorite people to work with, he is scarily passionate… uhhh, that's it."
"Trey is the most passionate human being I've ever had the honor of working together with, he dedicates his heart and soul to the endeavor in front of him and makes sure that it is the best it can possibly be."
"Trey is always willing to help and when he does he puts his heart into it."
"Trey is a talented artist and designer and, from my experience at Startup Weekend, a skilled mentor, coach, and uplifter of people as well."
"Trey you can accurately define, as 'the Rico Suave of design.'"
"Trey is a thoughtful and principled creative with a discerning look and a clever wit."
"Trey is brutally handsome and equally talented."
"I have personally seen Trey perform under extreme conditions and produce incredible work; I feel this speaks volumes about Trey's capabilities as a designer and as an entrepreneur."
"Trey is one of the most passionate change makers I have ever worked with." 
"Trey Steinhoff is actually Josh Hartnett preparing for a role as an artist/entrepreneur."
"Definitely a person, 4 out of 5 stars."
"Trey gracefully marries the philosophical and the artistic to create an American Dream that is distinctly his own."
"When you meet Trey you'll find yourself feeling upset by how successful, handsome, clever, and talented he is at so many different things but whatever you do don't tell him about the one thing you're better at or he'll just learn that too and he'll be so sweet about it the whole time."
"Brutal honesty and engaging conversation."
"Trey is always dependable and honest as a human, friend, collaborator, and creator that brings challenging questions and innovative spirit to any project."
"Trey's one of the best guys I know, without a doubt his ability to listen and give suggestions during startup weekend played a role in creating my company."
"As an improv student of mine I saw Trey as an invested learner of an art form he enjoyed playing."
"Trey is a kind soul and beautiful spirit whose positivity influences and impacts everyone around him."
"You can spell ambitious without t-r-e-y ... we must spell it wrong."
"Trey is simultaneously ambitious, and full of humility--a difficult combination to pull off. But he pulls it off in spades."
"Trey's like a cathode ray; he shoots straight and puts into focus anything in his way."
"Trey inspires me to be more thoughtful, creative, and innovative. Working with him will make you stop and question how and why you're doing things the way you've always done them."
"I have had the pleasure of working with Trey facilitating Startup events in the hopes of changing lives; what I had the pleasure of witnessing was Trey change and grow into a leader who remains steadfast in completing the mission at hand without compromising his morals and ethics along the way."
"Great guy to text while on the john."
"Trey is a resourceful innovator and well-connected influencer who should run for the mayor of Tampa."
"The three great essentials to achieve something worthwhile, first, hard work; second, common sense; third, make sure Trey is on the team."
"Trey is a triple threat. He has a deep understanding of design, businesses strategy, and technology, that together, is greater than the sum of its parts."
"Trey is a hybrid: a socially compassionate, community-building beatnik. He is a rebel WITH a cause. He easily absorbs new information and brings the value to anyone who might need it."
"Trey brings seemingly endless energy and enthusiasm to getting things done."
"A man of your caliber is tough to describe in one sentence."
"Trey is one of the most motivated, hard-working individuals I know. He is not afraid of hard work and strives for success. Trey is creative and energetic. Always creating a fun easy-going environment in any type of situation."
"Trey is an excellent person to talk to if you want to get things done. He keeps teams moving forward when the going gets tough, with the right amount of lightheartedness to keep it real."
"Trey is an extremely outgoing and creative individual that brings people together when working in a team environment."
"Trey's creativity and problem-solving skills are rare to find, he has skills in a wide variety of disciplines which make him an excellent team member and generally a great person to be around!"
"Trey is a uniquely talented and driven soul, with an uncanny ability to create art in physical form that matches his mental vision to perfection."
"The personification of calm collectivity and aesthetic mastery." 
"Trey not only has the unique capabilities to run high-profile projects and events, he's often one of the first to volunteer; he leads projects without letting ego interfere."
"T - trendy 
 R - radiant 
 E - entrepreneur 
 Y - young, wild and free"


"Trey is extremely creative and passionate about everything he does; 11/10 would recommend."
"An empathetic yet entrepreneurial mind who empowers the potential of individuals around him."
"Slow and steady wins the race."
"Trey is a man of character. He is a man you can count on both professionally and personally. His work ethic is exceptional, and if he does not know how to do something immediately, he will do whatever it takes to figure it out. Trey is that person you always want on your team. I am honored to know him."
"From talented design work to business strategy and market research he really does do it all. It's just unfair that he's also a superior public speaker and communicator of ideas. I want to come back as Trey."
"Trey possesses a wellspring on knowledge on so many topics, and is sensitive to human dynamics – particularly when helping people work together and build something that affects more than just themselves."
"A lovable, crazy-funny human being too complex to describe in one sentence."
"Earnest. Wait, a full sentence? Trey is earnest. Does that work? Alright."
"Passionate and idealistic with a touch of cynicism, 10/10 would talk about the cosmos with."
"Trey is a genuine rock star. He executed one of the most impactful startup weekends of all time. Despite his exceptional skill and success his humility and kindness have never faulted. It's an honor to know him!"
"Trey is the truest approximation of a renaissance man I've ever met, so hire him or something."
"Trey knows what's what, who's who, and even why's why, but really, all you need to know is Trey's Trey."